The Chequegnat Festival
A Community Festival in Kitchener, Ontario

---
2019 CHEQUEGNAT - Saturday, June 1st, 2019!

10:20 Chequegnat is ON! We have moved to the adjacent deck, which is fully covered, and we will make music for as much of the day as possible. BBQ is ON too! Please come and support the musicians!
Musicians: It is, of course, your call to make the trip to play for us or not! Please let me know.

See the Info page for more.
The Chequegnat Festival is a backyard community event that has taken place each June
since 2001. It is hosted by five homes in a neighbourhood near downtown Kitchener.
In order to keep the size appropriate for the venue, attendance is by invitation only.

---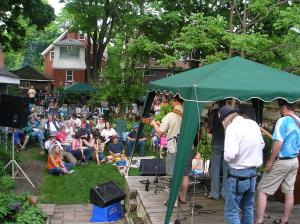 ---







We may be contacted at jhcole@mgl.ca
---
Content © 2013, foundation software inc.