The Chequegnat Festival
A Community Festival in Kitchener, Ontario

---
2020 CHEQUEGNAT - A Victim of COVID 19!

May, 2020. Well, as have probably all surmised, this is not a year when Chequegnat can happen. It would have been our 20th year. But. As important as music is to those of us who put on this little festival every year - and that's really important - we have a duty to the Human Race to keep our distance from each other. Enjoy all of the music that's flowing on the Interwebs, and we hope to see you all next year.
See the Info page for more.
The Chequegnat Festival is a backyard community event that has taken place each June
since 2001. It is hosted by five homes in a neighbourhood near downtown Kitchener.
In order to keep the size appropriate for the venue, attendance is by invitation only.

---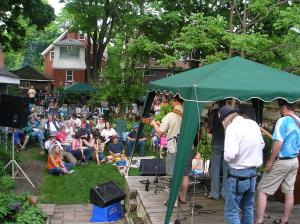 ---







We may be contacted at jhcole@mgl.ca
---
Content © 2013, foundation software inc.