Cathy Miller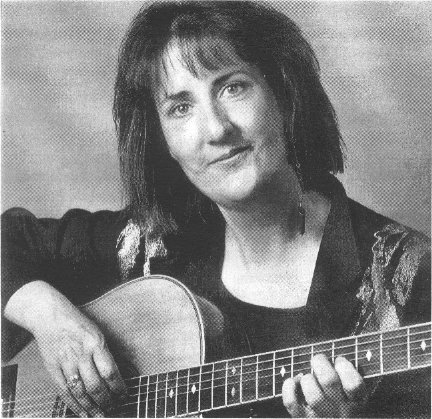 Cathy Miller is a fearless songwriter, who often writes on topics that make other songwriters run. She writes "slice of life" stories in her songs, whose topics include knees, marital infidelity, depression, kilts, independence, dancing, quilting, drought, mountain climbing and gravedigging.
For several years Cathy was a regular contributor to CBC radio's national show "Good Question", writing two-minute "songs with an attitude", answering listeners' questions.
But it's her voice that has been most praised - clear, powerful, evocative, she interprets the material impeccably and passionately for every audience. She gets "inside" the song, and sings from its heart. This ability, and her joy in singing, makes Cathy Miller impossible to ignore.
Since the mid-90's Cathy has teamed up with Eileen McGann and David K to present Two Thousand Years of Christmas, an exploration, through stories and songs, of the traditions that surround our most joyous season. In 1994 it was featured on Morningside. In 1995 there was a national CBC Radio special from Regina on Boxing Day. An album of the show was released in 1996.
For the previous seven years Cathy was a Calgary resident, but in 2000 she made the move to the Left Coast. Prior to 1990 she hailed from Ottawa. She teaches singing and songwriting and tours from coast to coast, performing for adults and children alike. She has been a professional songwriter and singer for over 20 years, and has six solo albums to her credit: Superwoman(1985), Footprints On The Moon (1988), Dance Beneath The Moon (1991), Living for the Stars (1998), One Stitch At A Time (2000, the 'Quilting' album), and A Quilter's Embrace (2002, the 'Quilting sequel').

---
"Cathy Miller, a new Canadian troubadour, electrified her audience at Owen Sound. She reminds me of Joan Baez early in her career because of her stage presence. She doesn't just sing her songs, she grabs her audience and sings to each person in it."- The Daily Press, Escanaba, Michigan
"Miller's unique perspective and humour has earned her a solid place on the folk festival circuit nation-wide."- NOW Magazine, Toronto
"An artist of consummate importance. . . One of Canada'a national treasures."- Michael Wilson, University of Ottawa
"Her voice is tantalizing, her original songs moving, her arrangements on the mark, and her obscure cover versions delightful."- Campus Entertainment Review
"If I had a voice like yours, I'd sing all the time!"- Peter Gzowski
"She is capable of astounding an audience with her vocal ability and simultaneously charming them right out of their socks. People love her.- Michael Smith, Chicago songwriter
"Spanning folk, blues, and jazz influences, Dance Beneath the Moon is an affirmation of human dignity, individual freedom and emotional and spiritual self-discovery and assertion."- Robert Reid, Kitchener-Waterloo Record

---
Samples (all clips are Real Audio 3.0)
---
Photograph: Lawrence Chrismas
Content Copyright Jack Cole and Cathy Miller
Comments: jhcole@mgl.ca
Back to Old Chestnuts Home Page.