Welcome to the Old Chestnuts Song Circle! We are an informal group of people who like to sing. We meet every month (September - May) in a home in Kitchener, Ontario to sing together, and have been doing so since 1995. We also present concerts and workshops, and help put on the neighbourhood Chequegnat Festival.

You can read more about us by sampling our newsletters (see below). New singers are always welcome. If you'd like to sing with us, please drop me a line and plan to come join the Circle next time we meet.
We begin our SIXTEENTH season on September 11, 2010. Please note that this is not our usual meeting date, but due to the Haines and Leighton concert on the 25th, we needed to move the Circle. Also, October's circle will be at our usual "backup" location. Please contact Jack is you need further clarification.
---
Folk Night at the Registry!
The Old Chestnuts (with the assistance of The Registry Theatre)
is working on year 5 of our folk music series in Kitchener! See
the Folk Night page and follow The Registry link for information about season 5!
June 6/10: The Old Chestnuts Present Folk Night at the Registry wins a KW Arts Award!!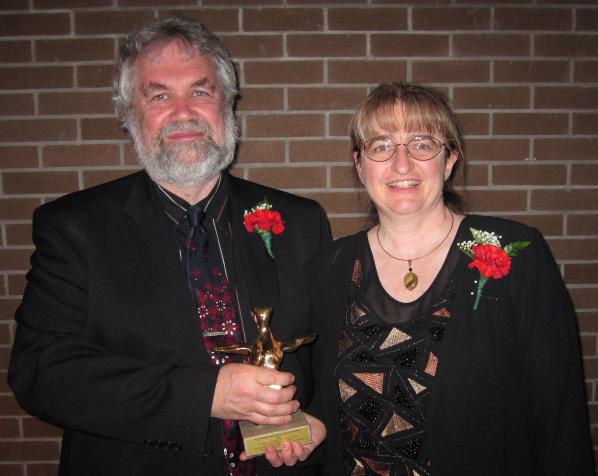 Jack and Lori Cole accept the KW Arts Award for Community Event.
---
Song circles are the
fourth Saturday
of most months! For example - Mar 27, 2010.